What is the secret that keeps yesterday's richest Addu person empty-handed today?
Saeed's home for auction - His commercial vessels idle for three years
Translated from Huvaas 10 August 2001
Original article in Divehi by Ismail Naseer in Hittadu, Addu atoll
'Moonlight Villa' is half way along the main street of Hittadu, and at one time it was a house that people would only stare at from outside. People used to hesitate to enter. It is the residence of Mohamed Saeed, who was the closer than any other islander to the British when they occupied Gan. Hittadu people considered it a pleasure and a privilege just to walk past the palatial residence.

However today this double storey residence is deserted and inhabited only by rats and cats. Not even a single person enters the house.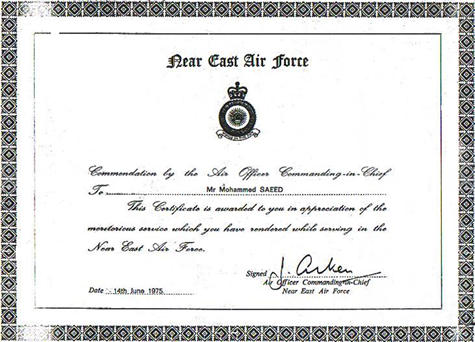 Certificate given to Mohamed Saeed in recognition of his services to Her Majesty's Near East Air Force.
Click here for enlargement
Until very recently Mohamed Saeed was the wealthiest person in his atoll. He had money and other assets such as boats, ships, houses and vehicles, and there were many employees on his payroll. But now his assets are gone and he is totally destitute. His fishing boats and cargo vessels are idle and falling into disrepair.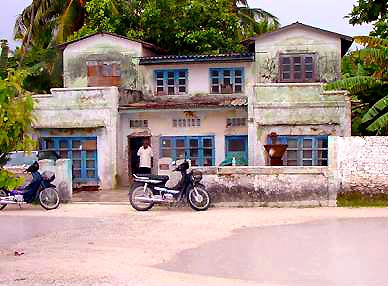 Mohamed Saeed's house - 'Moonlight Villa' Hittadu
"One boat is beached on Gaf Dal (southern Huvadu) Atoll while the other is burnt out and sunk in the sea. The house is up for auction. I have a ship but it hasn't sailed in three years," said Saeed, aged 65.
Saeed was intending to go into exile with Abdullah Afif [Didi] when he went away with the British in 1963, but something happened and he was not able to go.
"After serving in very senior [Malé] government positions I began working for Altaf. When they constructed the resort there, I was the most senior person with them. When I became the Commercial Director, I proposed building and leasing the Holiday Village on Gan . I was very happy to be able to do something worthwhile for this atoll. I put community service ahead of profit. I got the place in 1984," said Saeed, as he began to explain how he has become insolvent.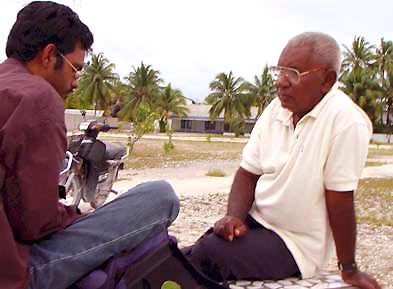 Mohamed Saeed with Ismail Naseer from
Huvaas
"The lease agreement for the facility stated that two flights a week would arrive, but no flights arrived. Expenditure continued to be incurred and for a long time he waited hopefully.
"Finally I decided to bring the flights myself, privately. At that time I had the means to do it. I travelled to New Zealand and negotiated a deal with a private flight operator, and organised scheduled visitor arrivals to Addu. However I failed to obtain the necessary government authorisation [from Malé]."
| | |
| --- | --- |
| | Royal New Zealand Airforce transport plane landing on Hulule airstrip on 19 October 1960. This was the first non- amphibious aircraft to land on any Malé government controlled air facility. |
According to Saeed, the main reason for the loss of his assets was not being able to bring visitors to the Holiday Village.

'At that stage I had invested a great deal of money building a small resort at a high standard for the time. A house was auctioned to finance a 500,000 rufiyaa (NZ$50,000) loan for that project from the Bank of Maldives. The outstanding amount, including interest, on that loan is now about 5,000,000 rufiyaa (NZ$500,000).'

When the Holiday Village became insolvent, Saeed said that he made losses amounting to 2.4 million rufiyaa(NZ$240,000).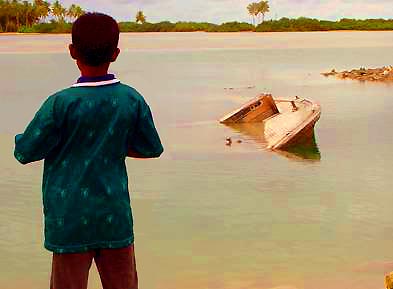 semi-submerged boat
"After that I started a project to export Napoleon fish. I was the first person in the Maldives to work on exporting that species. A short time after I started, the government banned it. At that time I had stock worth US$80,000", Saeed said.
No one in Addu is willing to buy Mohamed Saeed's house because of the respect they have for him.
"People tell me personally that because it is my house they are reluctant to take it. The starting price of bidding is 50,000 rufiyaa (NZ$ 5000)" he said, "Perhaps there is no one who is able to meet this limit."
Saeed said that at the height of his prosperity his income was about 400,000 to 500,000 rufiyaa a month. Now he receives only 1500 rufiyaa a month.
"I only receive 1500 rufiyaa that the Atoll Chief [a Malé government-appointed official] gives me. I receive this despite having no position. It is not given to me because I have a need for it. I do not even want it," he said.
Recently Saeed suffered from a serious illness. As a result he has some difficulty speaking .
Four months ago Saeed moved back to live on his island.
He has 11 children, 2 great-grandchildren and 7 grandchildren. Even though some of the children have resorts and senior positions with the [Malé] government, Saeed said that he does not seek any help from them.
"I've never been a person who uses or expects any help from their children," he said.
Although Saeed married three times, all his marriages ended in divorce. His last wife was several years younger than him.
Saeed said that even though all his assets and houses are being auctioned off, he still has the means to fend for himself until he dies.