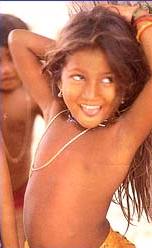 Little girl from Lakshadweep
- "
kuda dhiye
"
The newborn child is named on the day of birth. The baby normally stays in the room in which it is born for the first six days. Customarily the birth would take place in the ansestral home of the mother. The mother's house name becomes the child's surname.
On the seventh day after birth the baby would make its first visit to the father's ancestral home where jewellery would be presented.
After 20 days the baby's head is shaven and the hair is weighed against something of value (traditionally gold or silver) which would be given to the poor. This ceremony is called bobeylun.
Circumscision of boys is followed by much celebration. Dancing and drumming in the evening forms part of the entertainment. The festivities usually continue for about a week.