A fish named after a Minicoy islander, Muraidu Ganduvar Ali Manikfan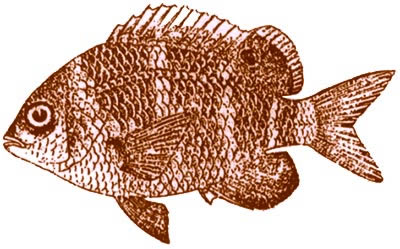 Abudefduf manikfani Jones and Kumaran
Abudefduf manikfani Jones and Kumaran, J. Mar. boil.
Ass. India, 10, 324, fif.5, 1968.
Abudefduf sp., Jones, Bull. Cent, Mar. Fish. Res. Instr.,
8, p. 19, 1969 (Cat. No. CMFRI LA-F. 67/518)
_______________________________________
Specimens studied: Kavarathi (4), 40 to 46 mm. Minicoy
(5) 31 to 53 mm.
D. XII. 16-17; A. II, 14; P.ii, 16, V. I. 5 LI, 20-21+8-9; Ltr. 3+1+9.
Head 2.9-3.2 in standard length, 3.8-4.2 in total length. Depth of body 1.8-2.0 in standard length. Eye 3.0-3.3 in head, 0.7-0.8 in snout and 1.0-1.1 I interorbital space. A single series of slender, compressed teeth in jaws. Preorbital, suborbital, prepopercle, opercle, subopercle and interoppercle without any serrations. Scales on head reaching to nostrils. Preorbital naked. First spine of dorsal slightly. Shorter than eye diameter, third or fourth dorsal spine longest, slightly shorter than snout and eye together. Second anal spine as long as third dorsal spine. Pectoral fin equal to or slightly shorter than head. Ventral shorter than pectoral.

Colour: Chocolate brown, breasts and lower sides of head lighter. Four vertical white bars on sides, the first from nape across hind border of opercle, second from base of 4th to 5th or 6th dorsal spine down to front of vent, third from base of last dorsal spine and first dorsal ray to base of middle of anal and the fourth on caudal peduncle. A broad dark brown ring on caudal peduncle immediately behind the fourth white transverse.