Source: HamiltonJet JetBrief and Bandeyri Koshi Archives
JetBrief No. 322 March 2000
Hamilton Jet Model HM422
Application Review
The National Security Service of the Republic of Maldives have taken delivery of a new Hamilton Jet powered landing craft. Twin Model HM422 jets directly driven by MAN diesel engines push the aluminium craft to speeds over 20 knots when fully laden.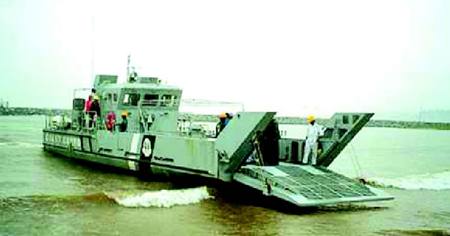 To be used for transporting troops and vehicles between the various islands in the Republic, the prime requirement of the vessel was the ability to easily beach and pull away again.
With the waterjet intakes flush with the hull bottom there are no vulnerable appendages to impede beaching operations. The Hamilton Jet pump design, with its high resistance to cavitation, allows full power to be applied at low boat speeds, ensuring a powerful astern thrust is available for backing off the beach.
A Hamilton HYRC power assisted follow-up control system is incorporated to provide full 360° thrust vectoring control whether at high speed or low speed manoeuvring. Hydraulic power for the operation of the integral reverse deflectors is supplied by a JHPU hydraulic pump mounted on and driven by each jet. The rugged design and construction of the Hamilton Jet units ensures vulnerable items such as hydraulic hoses are safely located inboard, which helps reduce maintenance requirements.
Brief Specifications

SERVICE
Fast Landing Craft
LENGTH
20.9 metres [LOA]
BEAM
5.0 metres
DRAUGHT
0.7 metres (static)
CONSTRUCTION
Aluminium
DISPLACEMENT
30 tonnes [fully laden]
SPEED
20 knots
WATERJETS
Twin HamiltonJet Model HM422
WATERJET CONTROLS
HamiltonJet Type HYRC
ENGINES
Twin MAN diesels Model D2842 LE 401, each 597kW (800hp) @ 2100rpm
DESIGNER/BUILDER
Colombo Dockyard LtdColombo, Sri Lanka
OPERATOR
National Security Services Republic of Maldives
HamiltonJet DISTRIBUTOR
Consolidated Marine Engineers Ltd, Colombo, Sri Lanka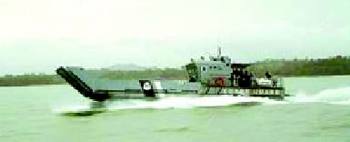 © HamiltonJet™