Feedback
From: "mohmed" msuad@hotmail.com
To: majid@maldivesroyalfamily.com
Sent: Thursday, 7 November 2002 03:20 Subject: Battery
Hey your claim that Battery at Lonuziyaaraikolhu is more than a joke. That doesn't exceeds a few KM. So how on earth it could be targeted at US flights? Do you think Maldivians are insane and do this....?
Your Higness please keep your crown and shut up....
---
Maldives Royal Family Website inquiries with our contacts inside the NSS so far indicate that the individual who wrote the above mail may be an official of the Maldive Ministry of Defence and National Security. He may be the son of a senior officer of the NSS. No doubt, we have touched a raw nerve.
The United States first declared that it did not recognise these Maldive claims in 1982 and subsequently in 2000.
The United States conducted operational assertions of its objections, some of which included overflights, several times between 1981 and 1985 and then in 1987, 1989, 1990, 1992-1994, 1998 and 2001.
Between 1981 and 1985 the Maldives National Security Service (NSS) installed an anti-aircraft battery on the south eastern point of Malé called Lonu-ziyaaraiykolhu and regularly fired at United States aircraft. The United States aircraft always flew above the range of the Maldives National Security Service artillery.
Links with the Axis of Evil

The original anti-aircraft battery at Lonu-Ziyaaraiykolhu was "a hand-me-down" from Saddam Hussain. It was part of Saddam's arsenal in Basra intended to terrorise Iraq's marsh Arabs. The gun was never in a very good state of repair. An NSS officer was badly injured when the gun backfired. He had to undergo extensive surgery when shrapnel lodged in his face and other parts of the body.
The NSS arsenal consists of more than 400 AK-47 rifles donated by Saddam Hussain, still displaying the serial numbers of the Iraqi armed forces. There is also a considerable quantity of weapons given by Muammar el-Gaddafi of Libya. Since Operation Desert Storm, such weaponry is not allowed to be seen in public.
An example of Maldive public opinion following September 11, 2001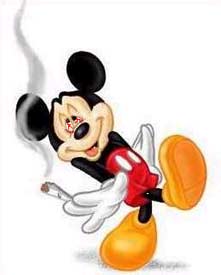 British volunteers in Malé and American volunteers in Maalhosmadulu atoll dubbed the site of the anti-aircraft battery "Gun Point" in 1982 because of the NSS artillery fire.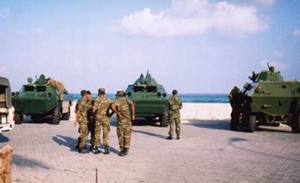 NSS target practice at "Gun Point"
possibly not at the United States Air Force on this occasion
From the archives of Bandeyri Koshi

U.S. weapons systems licensed for export to the NSS during
1997-98

System

Quantity

US$

Night vision scopes, spares and components

15,181

Radio set (components and spare parts)

63,982

Rifle M-16 (all models) for use in the SPG- the Special Protection Group previously called the "Delta Force"

50

43,000