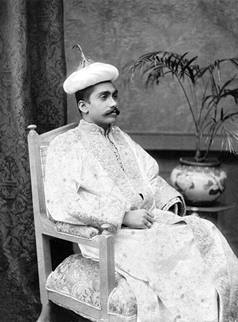 His Royal Highness Maandoogey Tuttu Manippulu dressed in the full State regalia of Prince Regent, March 1901 in Male Maldives
Prince Ahmed Maandoogey Tuttu Manippulu was the youngest son of Sultan Hassan Izzuddine Maandoogey Bodudorhy Manippulu, elder son of King Kula Sundhura Siyaaka Saasthura Audha Keerithi Bovana (Sultan Mohamed Imaduddine IV Iskander).
He was born on 27 January 1877 at Kambaafaanu Ganduvaru (this was a secondary royal palace dedicated as a maternity residence for senior royals. Kambaafaanu Ganduvaru means Princess Palace) in Male.
His mother was Maandoogey Don Didi daughter of Ahmed Didi son of Moosa Didi son of Huraa Mureedugey Hussain Dorhimeynaa Kilegefan, a descendant of King Manoel Dhirikusa Loka (Sultan Hassan IX) through Dom Luis de Sousa.
Maandoogey Tuttu Manippulu was born in the reign of his grandfather King Siri Kula Sundhura Siyaaka Saasthura Audha Keerithi Bovana. When the old king died after the longest unbroken reign recorded in Maldive history, his elder son Hassan Izzuddine Maandoogey Bodudorhy Manippulu was elevated to the full rank of sultan, but had to share this role with his younger brother Ibrahim Nooreddine.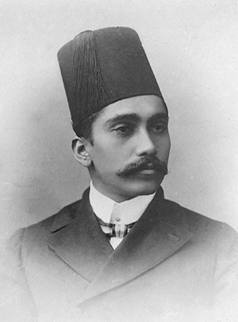 Prince Maandoogey Tuttu Manippulu dressed in the contemporary attire of the Ottoman nobility
2 May 1901 in Male, Maldives
The elder prince was incapacitated from discharging the duties of sultan as his vision was almost totally impaired from a very early age due to a medical misadventure.
Notwithstanding this, Hassan Izzuddine had all the rights and prerogatives of Sultan and was in residence at the Eterekoilu, the seat of the Sultans. In all official ceremonies and records, including the plaque on his tombstone he was addressed as Sultan.
In those days (until 1963) a proclamation- benediction called taania was read out at Friday services at mosques throughout the realm. The taania mentioned the reigning Sultan by name. In the lifetime of Hassan Izzuddine Maandoogey Bodudorhy Manippulu, his name was mentioned in the taania as co-Sultan.

The Royal parasol called
Haiykolhu or Isfaalha
Maandoogey Tuttu Manippulu grew up with all the royal honours of the time. He was entitled to gun salutes, fanfares and full State processions. State ceremonies performed for him with full royal honours included his circumcision ceremony, private school graduation ceremony, State parasol ceremony, first sea voyage ceremony, and weddings.
When Tuttu Manippulu was about 16 years of age, his eldest brother assumed the throne as King-Sultan Mohamed Imaduddine VI Iskander (more commonly known as Haji Imaduddine). Tuttu Manippulu and his middle brother Maandoogey Dorhy Manippulhu were declared co-heirs apparent and shared many royal duties with their eldest brother the new Sultan.
For this reason that era bacame known as the era of the "Maandoogey Kingdom". When the Sultan was out of the capital, one of the younger princes performed the day-to-day duties of State. When the Sultan went abroad to perform the haj, he took the elder of his younger brothers with him and Maandoogey Tuttu Manippulu assumed the powers of King-Sultan as Prince Regent.
There were several contenders to the throne at that time. When the King-Sultan went abroad, there was much jostling for power. The young Prince Regent tread a fine line and kept order among the great nobles who had divided loyalties. He was successful in warding off the contenders and managed to preserve the throne for his brother.
Subsequently when the Sultan travelled abroad to marry an Ottoman lady in Suez, the role of regent fell on the elder of his younger brothers, Maandoogey Dorhy Manippulu who obviously lacked the tact and political acumen of his younger brother Maandoogey Tuttu Manippulu. Dorhy Manippulu soon lost his elder brother's throne to one of the contenders, Muleegey Manippulu who assumed the throne as King Siri Kula Sundhura Katthiri Bavana (Sultan Mohamed Shamsuddine III).
Maandoogey Tuttu Manippulu was an accomplished fine artist. He excelled in the art of designing gold and silver jewellery and was a recognised master of that craft- the leading authority of his time. He designed and sometimes hand-crafted fine jewellery for his wives, daughters and relations.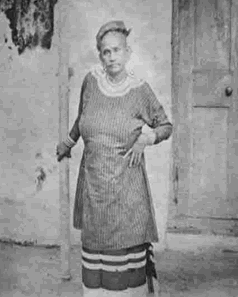 Her Royal Highness Maandoogey Don Didi
He was the first person to introduce photography to the Maldives, which was later banned by the new regime. However he ignored the ban and continued to maintain a studio at his residence. The first photograph taken and developed in the Maldives by a local photographer was by Maandoogey Tuttu Manippulu of his mother Maandoogey Don Didi. This photograph has survived to this day and is published here.
His other artistic talents included turning wood into the traditional lacquered vases and vessels of the Maldives. He was also a talented musician, particularly of the classical Maldive styles.
Maandoogey Tuttu Manippulu was the first Maldivian to own and operate a radio receiver in the Maldives. This was an illegal operation at that time as the new government did not allow such activity, particularly by a member of the deposed sultan's family. He had a massive aerial towering over his residence. Officials apparently served several warrants to have the antenna removed, but Tuttu Manippulu insisted that it was a device to help him have his kites airborne. No kites were ever seen to fly from that mast. The bewildered officials were not too sure and their bosses, who knew better, were too timid to have the thing forcibly removed. So he kept enjoying braodcasts from the outside world.
Maandoogey Tuttu Manippulu was of a congenial nature. He spoke in a confident voice and laughed out loudly often. He had a good sense of humour and often played light-hearted pranks.
After King-Sultan Mohamed Imaduddine VI Iskander was deposed in favour of his cousin, the Maandoogey princes and their families had to endure much hardship and humiliation. They were, however, offered an "olive branch" more than once by those connected with the new regime. Notwithstanding this they seemed to lack the foresight to take advantage of such offers at that time. Had this not been the case, the delicate balance of power would surely have swayed in their favour. This was not to be.
Having decided that the star of his good fortune had set, a frustrated Maandoogey Tuttu Manippulu decided to go into self-imposed exile in Ceylon. After several years of unsuccessfully seeking an exit visa from the Maldives, he travelled to Colombo in 1925.
Maandoogey Tuttu Manippulu married three ladies. They were, Velaanaagey La Didi daughter of Malingey Hassan Velaanaa Manikfan, Maaveyodorhugey Sanfa Didi daughter of his step-mother Kahambugey Bodu Didi and Aa Ganduvaru Tuttu Goma, daughter of his uncle Sultan Ibrahim Nooreddine. The first two ladies bore him a total of eight children.
While he was in self-imposed exile in Colombo, his brother's successor Mohamed Shamsuddine III was forced to abdicate from the throne by a new government led by Shamsuddine's nephew Hassan Farid Didi, who was the virtual dictator at that time. Samsuddine was succeed by Maandoogey Tuttu Manippulu's nephew Maajehi Ganduvaru Manippulu as King Siri Kula Sudha Ira Siyaaka Saasthura Audha Keerithi Katthiti Bovana (Sultan Hassan Nooreddine II). Hassan Farid Didi was married to Maandoogey Tuttu Manippulu's youngest daughter Tuttudon Goma. Hassan Farid Didi soon sent word to Colombo and brought his father-in -law back.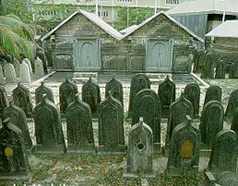 The Royal Enclosure of the graveyard of the Hukuru Miskit in Male: Tombs of mainly Huraagey kings, princes and princesses
With his nephew on the throne, and his son-in-law as virtual head of the government, Maandoogey Tuttu Manippulu regained all his royal honours and prerogatives and took up residence at Uthuru Ganduvaru (now part of the defence headquarters).
Maandoogey Tuttu Manippulu died aged 69 (71 according to the lunar calendar) on 9 May 1946. The militia were summoned by drum roll, as royal protocol dictated, and he was buried with full princely honours at the royal burial enclosure at Male's Hukuru Miskit, next to his father's tomb.
Maandoogey Tuttu Manippulu was my paternal grandfather.