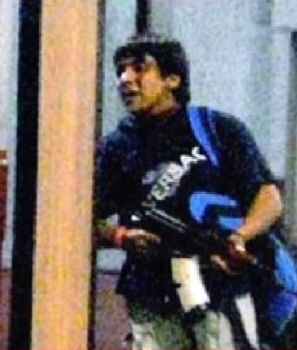 Islamic terrorist attacking Mumbai
According to a Divehi language report by Niumatolla Idris in the Maldives' biggest newspaper
Haveeru
, there is a Maldive connection to the recent Islamic assault on the Indian city of Mumbai.
Haveeru
refers to Indian intelligence services and an article by Parveen Swami in the Indian magazine
Frontline
as its sources.
A senior Lashkar-e-Toiba operative, Faisal Haroun planned to smuggle arms into India with the help of Malé-based Maldive citizen Ali al-Shaam, the report added. Haveeru does not make it clear if Ali al-Shaam is a native Maldivian, a naturalised Islamic terrorist of foreign descent or simply someone given a Maldive passport of convenience. Despite its claim to being a one hundred percent Muslim country, the Maldives has so far avoided being identified with other Islamic terror-sponsoring countries. For that reason, Maldive passport holders do not face terrorism profiling when visiting non-Islamic countries.
It was also reported that al-Shaam collaborated with Haroun on acquiring an arms storage facility on an uninhabited island in the Maldive archipelago. There are close to a thousand such islands with easy boat access to major Indian ports. The Maldives' closest neighbours are India in the north and the British Indian Ocean Territory (BIOT) in the south. Diego Garcia, the site of a top secret United States military facility is in BIOT.
A Maldive national, Ibrahim Fauzi, was one of the Islamic terror suspects captured in Pakistan and detained in Guantanamo Bay.
Islamic terrorists have been infiltrating Maldive mosques, urban areas and villages since late 1978. They have managed to force nearly four in every ten Maldive women into the Islamic burugaa veil in a climate that averages at 30 degree Celsius heat and 95 percent humidity. Up until now Maldive women took pride in their patriotism and did not give in to the burugaa, which is seen as a foreign piece of apparel.
Currently there are some Maldive islands that are outside the administrative control of the Maldive authorities. The inhabitants of these islands have pledged allegiance to the cause of worldwide jihad instead of the Maldive republic. They are committed to killing non-Muslims and the establishment of the Islamic caliphate everywhere in the world. An armed standoff with government police on one of those islands, Himendhoo in Ari Atoll some months ago resulted in arrests but the offenders were let of lightly by the former Gayoom dictatorship, at the behest of brotherly Islamic countries.
During Ramadan 2007, Islamic terrorists detonated a bomb in a park in Malé outside the city's main mosque. Although there were no casualties, it was aimed at killing non-Muslim tourists, some of whom were seriously injured. The bombing coincided with the anniversary of the Battle of Badr, one of Mohamed's early assaults on the non-Muslims of his own tribe in Mecca. The main perpetrators of the bombing were allowed to flee the Maldives to Pakistan and those who were apprehended were let off lightly.
In August the Maldives ratified a new constitution which, the world is persuaded to believe, is democratic. Maldives international human rights commitments are not fully addressed in this constitution. It disenfranchised and denaturalised non-Muslim Maldivians for the first time. Not a single member of parliament cast a dissenting vote against that particular constitutional clause, including members of the currently ruling Maldivian Democratic Party (MDP). One of the first acts of the new MDP-led government that assumed office in November was to block web access to Christian web sites. According to a report by Ibrahim Mohamed in Minivan News, a Divehi language Christian web site www.sidahitun.com is the main target of this censorship.