The Sultan's Missive ceremony Colombo 1920s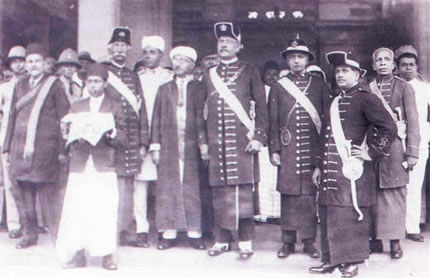 The annual Missive of the Sultan of the Maldives to the Governor of Ceylon 1920s. Before the independence of Ceylon (now Sri Lanka) that was the only diplomatic ceremony that took place in Colombo. This colourful ceremony goes beyond British times. The first written record of the ceremony is in Boduthakurufaanu Vaahaka by Buraara Koi in which the ambassador of Andiri Andirin, the Regent of the Maldives, delivered the missive to the Portuguese governor of Kotte. In that account the ambassador was Utheem Mohamed Thakurufan. In this photograph, the Sultan's Ambassador Athireegey Abdul Hameed Didi (in the middle, slightly to the left), then resident in Colombo, poses with the Maldive missive-bearer and the native militiamen of the city of Colombo (see note) at the entrance of the Governor's mansion.
The Sultan's Missive ceremony Colombo 1930s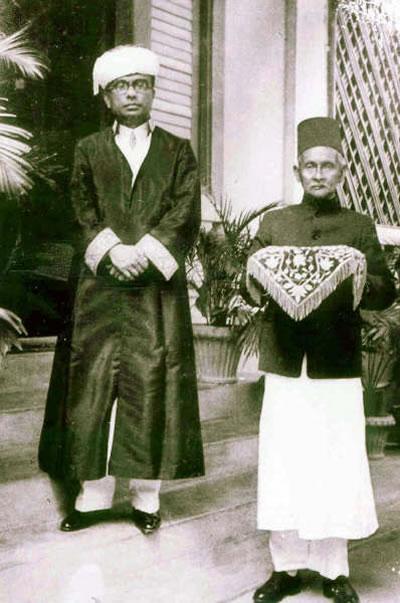 The Sultan's Ambassador Kakaagey Hussain Hilmy Didi poses outside the Maldive mission in Colombo with the Royal Missive bearer
The Sultan's Missive ceremony Colombo 1940s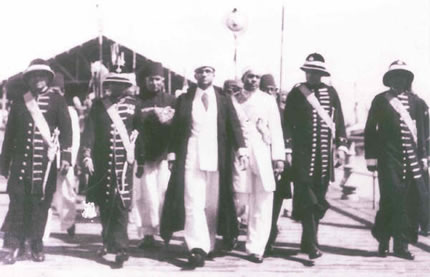 The Sultan's Ambassador Athireegey Mohamed Amin Didi in procession to the Governor's mansion in Colombo with the Royal Missive bearer and the native militia of the City of Colombo (see note)
The British Governor of Ceylon inspecting a guard of honour in Malé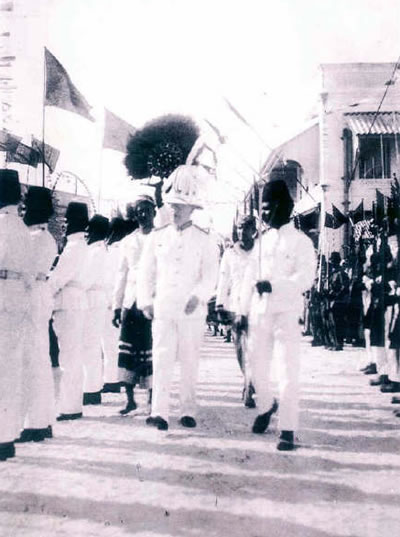 The British Governor of Ceylon on a visit to Malé in the early 1930s inspecting a guard of honour at the jetty before proceeding on foot for an audience with the Sultan Mohamed Shamsuddine III Iskander at his palace, the Etherekoilu a few metres to the south. The peacock feather fan called saamaraakolhu is visible above the Governor's head. In addition to the Sultan, only senior princes of the ruling dynasty and visiting British governors were entitled to the peacock feather fan.
A Royal militia guard of honour in Malé, pre-World War I


The Sifain regiment parades in the plaza now occupied by the main mosque of Malé

Audience hall of Matige inside Etherekoilu


The Sultan's audience hall at the Matige building within the Etherekoilu royal palace complex 1960s. This was where the Sultan had his audiences with the Prime Minister and ministers and received foreign ambassadors. The Sultan's office and that of the Maabandeyri (chancellor) was within this three-level building with a copper roof. The basement of the building housed a magnificent pre-Islamic coral stone bath. The bath, thankfully, was left intact and covered up when the rest of the complex was demolished in 1968.

United States Ambassador


The first Ambassador of the United States of America to the Maldives His Excellency Andrew V. Corry presents his Letter of Credence from President Lyndon B. Johnson to His Majesty Mohamed Farid King of the Maldives at the Etherekoilu. 1967. Behind the monarch is his Private Secretary Adnan Hussain.

The first foreign ambassador to present his letter of credence to His Majesty was the Ambassador of the State of Israel in 1965.