Sultan and courtiers 1890s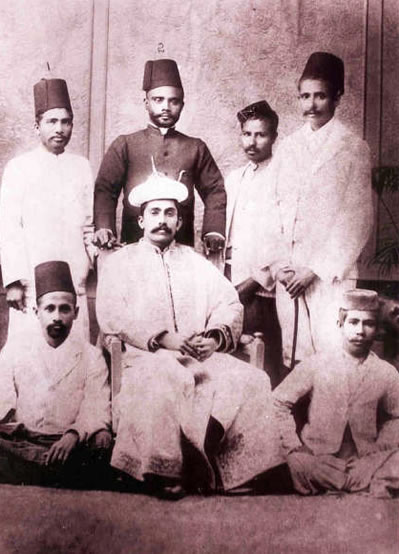 The Sultan Mohamed Imaduddine VI Iskander (seated) with his courtiers and attendants in the 1890s. He was the site editor's great uncle. Behind him in a dark suite is Kakaagey Ismail Didi, the site editor's father-in-law's grandfather
Sultan in Egypt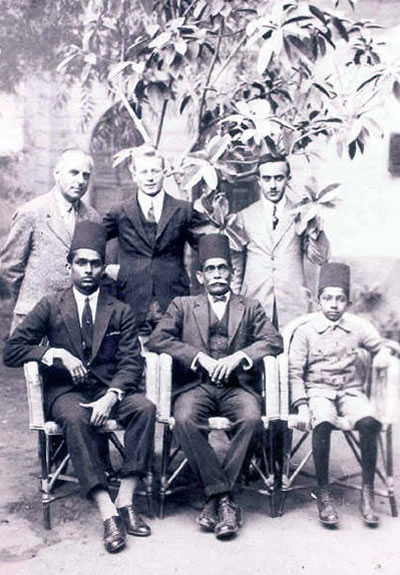 The Sultan Mohamed Imaduddine VI Iskander was deposed by his cousin in 1903 and spent the rest of his life in exile in Egypt. Here he receives British diplomats based in Egypt. The Sultan is flanked on his right by his second son the Prince Hassan Imaduddine and on his left by youngest son the Prince Ismail Imaduddine
. Most of Mohamed Imaduddine VI's descendants are still in Egypt or elsewhere in the Middle East. Some are in the Maldives (three of them inconspicuously serve in Mr Gayoom's cabinet in 2007).
Constitution Day, December 1932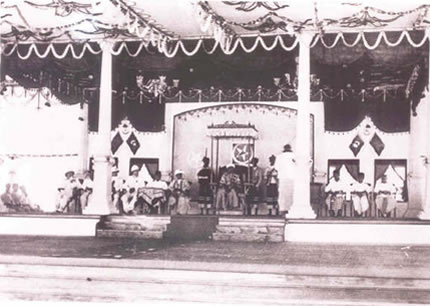 The special durbar
in which the Sultan Mohamed Shamsuddine III Iskander gave his Royal Assent to the first written constitution of the Maldives. Seated on the Sultan's immediate right is the Heir Apparent the Prince Ali Maajehiganduvaru Manippulhu who later succeeded the throne as the Sultan Hassan Nooreddine II Iskander. He was Shamsuddine III's cousin's son.
Sultan in procession 1930s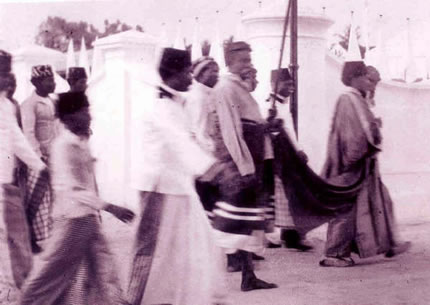 The Sultan Hassan Nooreddine II Iskander in procession returning to the Etherekoilu royal palace complex along Meduziyaaraiiy Magu past where the Meduziyaaraiiy shrine meets Mulee-Aage residence. The sultan was this
site editor's father's first cousin and mother-in-law's father. Behind the Sultan in the foreground, slightly off the middle of the picture is Bodufenvalhugey Seedi, the site editor's maternal grandfather, then minister of education.
Sultan in procession 1930s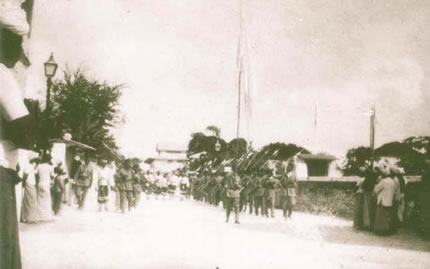 Two militia platoons head the procession of the Sultan Hassan Nooreddine II Iskander, moving east along Meduziyaaraiiy Magu. At the head of the leading platoon is the amaan flag-bearer
known as the
Jadibu
. The
amaan
flag was a white flag with three triangular flies (somewhat similar in shape to the current flag of Nepal) and signifies to the citizenry that the Sultan comes to their midst in peace.
Uploaded 8 July 2007